Alan and I just got back from an awesome bike trip around the northern jungles of Cambodia. Here's a taste of what it's like on the dusty road.

After looking at the new map that Al had bought, our plan was to ride from Siem Reap to Kratie, a town on the other side of the Mekong River, best known for the Irrawaddy dolphins that live there. The route we selected cut through Dang Kda and other smaller towns. We opted for this route to avoid going all the way around through Kapong Thom on paved roads.

We set out slightly later than planned, but with plenty of time to make it to the river before it got too dark. The first 140k was easy, Rte 6 is big and paved to the extent of being a tedious and mind numbing stretch. We made the turn off Rte 6 and had no problem getting to Dang Kda, a a small town in rural Kampong Thom province. All roads off the main highways are completely unmarked, so you have to stop at every junction and ask directions. Leaving Dang Kda, everyone we asked was very confident about the way to Kratie.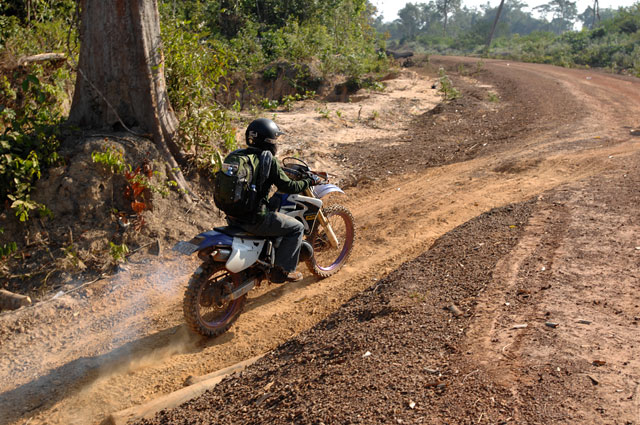 Al cruising along the road

We had a good idea where we were on the map, and roads were in excellent condition (for Cambodia, excellent is relative). Junction after junction we asked the same questions, and got resounding answers, all pointing us towards Kratie. With each km we rode we got deeper and deeper into the jungle, but not before passing massive army run clear cutting. The roads were still good and we figured we had another 30-40km to go, not a problem, but the sun was getting low in the sky and we knew we only had another hour or so of usable light (no one wants to ride at night in the jungle). Finally we reach a crucial intersection where we're talk with some army guys about the road. At this point the sun has set and only the remaining glow of dusk can be seen above the trees. Flashlights out, we pour over the map with the army guys. I look up to see massive fruit bats circling above. They point us to the right, down a road that leads to a town. We head off, confident that we'll make it to the river with just enough time to find a boat to take us and our bikes across. We ride for a while, stopping in a tiny village at a place with a few people singing karaoke. We're getting close, but by this time it's becoming clear that it's too dark to make any real progress and we'll have to find a place to sleep for the night. The karaoke folks point us the remaining few km to the town with a market. We roll in and stop at a restaurant with a few people and a truck parked outside. It's the first time we've seen a town with electricity since leaving the main road 4 hours earlier. We order dinner and ask about guesthouses in town. There aren't any. Hmm...we ask where we are...it's not on the map...at this point a young man, Mr. Chi comes in decked out in his Chelsea football jersey and immediately comes over and starts talking with us in English (we've been using our basic Khmer up to this point). He's so excited that there are foreigners there and he can practice English. We again ask him where we are and if there any guest houses. Again, not on the map, and no places to stay. Is there any town nearby with accommodation, no...then, in classic hospitable Khmer style, he invites us to stay with him. He works at the local rubber factory and they have an extra room. Not to worry, "there's safety at my house". Fantastic, we've made a friend and scored a place to spend the night. We join their table, which turns out to be rubber factory workers having a business dinner. They're all excited about having us there. When asked if foreigners ever come here (half jokingly), they look amazed and say there hasn't been any in 3 years.

After dinner, we're invited to check out the rubber factory. Mr. Chi is very excited and calls his friend Vy, the only other person in town who speaks English to join us at the factory. The four of us sit on the small hill sipping our beers, looking out over the town, enjoying the kindness of strangers, and strange turns that traveling makes. We discuss our route the next day and they assure us that is actually a road to Kratie, and to go to Phnom Chi, talk to the old man who lives up on the mountain and he'll show us the way.

A few beers later and it's 10pm, time for the towns electricity to shut off. We head to Mr. Chi's house, a small concrete building on the factory's grounds, built for the Malaysian factory owners when they visit. It's sparse, but who could argue with polyester sheets and a mosquito net. As we walk in, Mr. Chi again assures us of the "safety" of the house as he picks up his AK-47 lying on the bed.

After struggling with the mosquito net setup, we fell asleep to Mr. Chi's radio playing Khmer songs.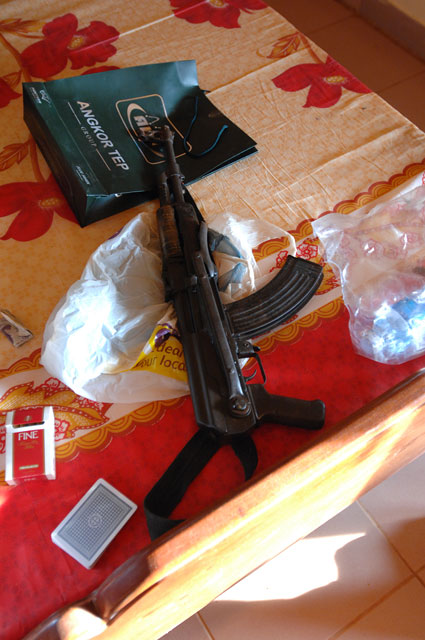 Our "safety", Mr. Chi's AK

Up early, we grab breakfast and head out towards Phnom Chi. The roads are generally good, except for some washed out sections that have rickety bridges across the gaps.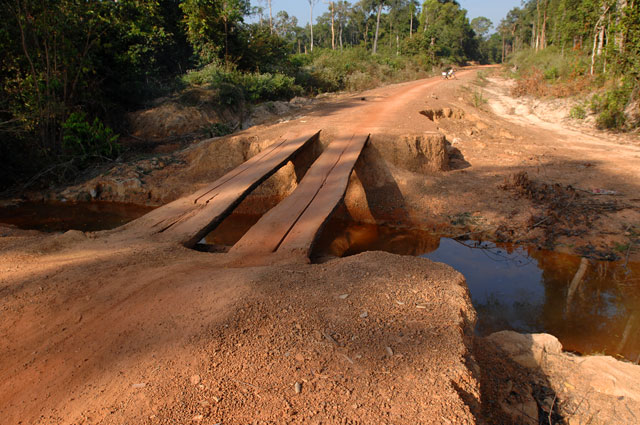 One of many sketchy bridges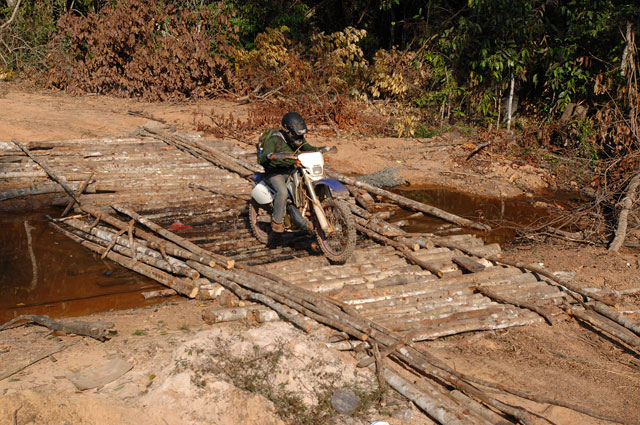 Just what it looks like

At the base of Phnom Chi, the graded road abruptly ends and we begin riding on single track through an open airy forest.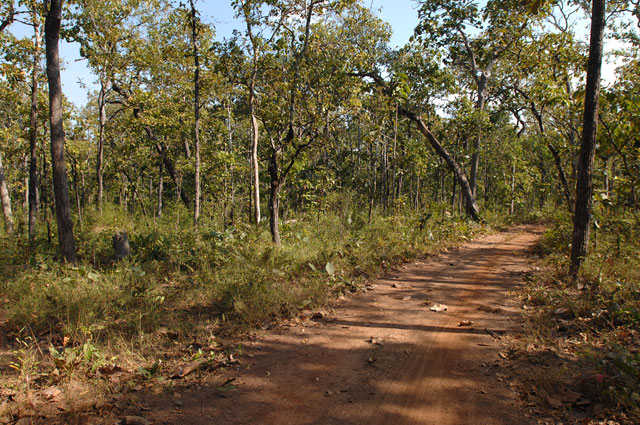 The road we probably should have taken

Half an hour of fairly challenging trails and we come to a split in the road. We stop, drink some water and discuss the options. To the right a small red path, to the left an ox cart track which looks slightly more used. We notice a blue arrow painted on a tree pointing to the left. We decide to follow the arrow.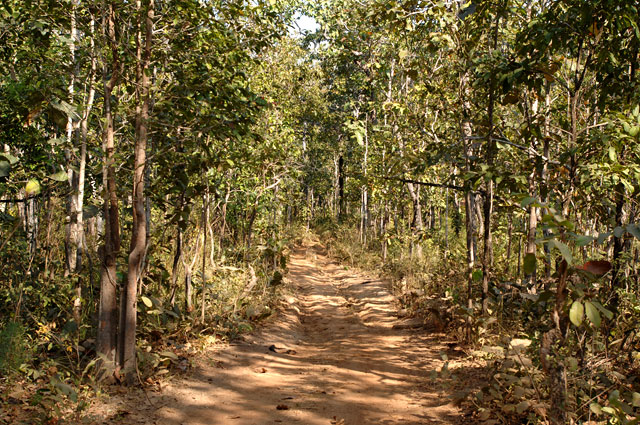 The road we took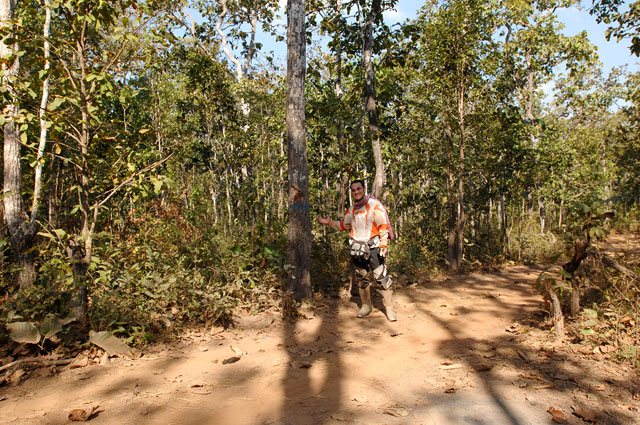 Yes, that's me pointing at the blue arrow we followed...oops..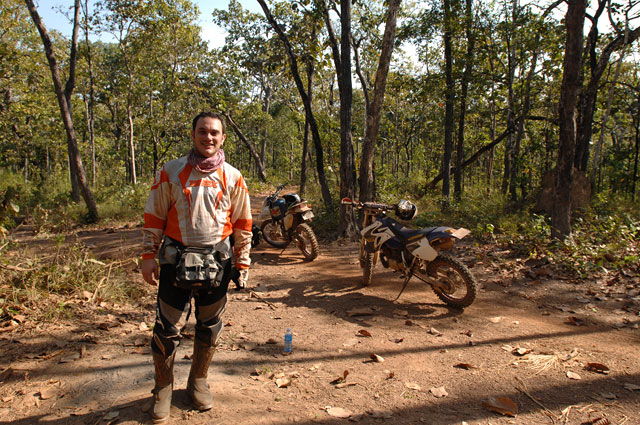 In the forest

Another 20 minutes of open forest and I stop to wait for Al to catch up. I wait. No Al. Turning back I find him pushing his bike which cut out and won't start. We discuss our options again. At this point we're at least 40km from the last town and unsure how far to the next. Try the bike again...nothing... We decide that I should ride ahead and see if there's anything to shoot for. I take off, leaving Al and bike to the sounds of the forest. After 3km I cross another sketchy bridge and find a family eating lunch, living out here in the middle of the forest. They're slightly stunned to see a white person out in the middle of the forest. It seems we're closer to another village than the one we left that morning. I ride back to Al who's been slowly pushing the bike over roots and ruts. We tie a few bungee cords together for a tow, but they promptly snap...I head back to the family and after a few minutes negotiate a bit of hammock rope and get it across that my friend's bike has broke down and I need to tow him. Back to Al. A slow tow later and we're both with the forest people.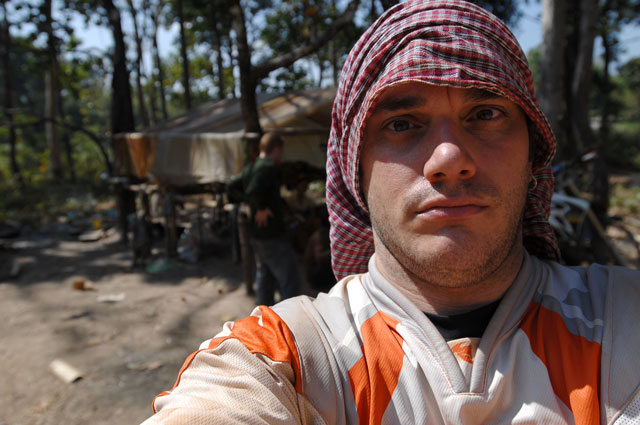 At the forest people's shack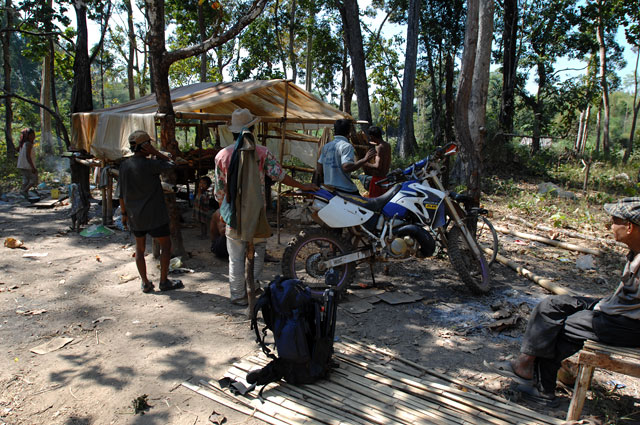 Discussing what to do

After a lot of chatting with them it becomes clear that the next village is too far to tow, so we go about trying to fix the bike. We think it's the spark plug, and the Khmers seem to agree. Thankfully, most Khmer men have basic small engine repair knowledge, even deep in the forest.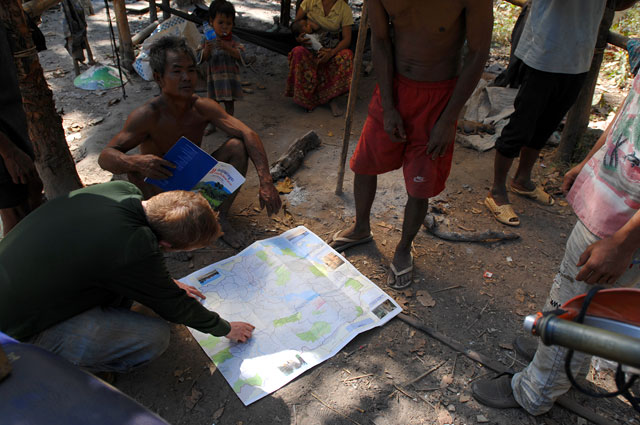 The map

They produce a few tools, clean the spark plug and vroom, the bike starts! Grateful for our second round of strangers going out of their way to help us we head off. The next stretch was open forest as well, but sand, sand, sand...slow going, sand is eternally frustrating. 30kms and we eventually make it a tiny village with a giant pig wandering down the main dirt path. We stop, drink a coke and some water (you can find coke anywhere, it's amazing) and reinspect the map.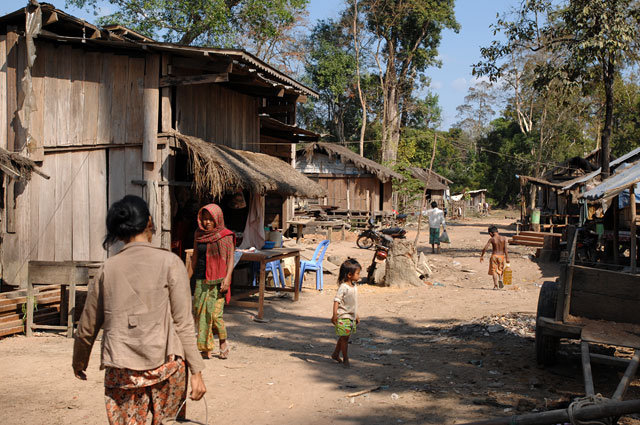 Small village in the middle of the jungle

Of course this tiny place isn't on the map, but they seem to understand the name of a village on the map, Damreing. Yes, they know of it, it's only another 40km from here. It's around noon, which gives us plenty of time to make the trip, catch the boat and be in Stung Treng (the next large town on the Mekong where we planned on staying) by night fall. Things are looking up. We fill the tanks and head out. We quickly find ourselves deep in the jungle. Nothing like the open airy forests of earlier, but dense foliage reaching to the sky. It's so thick that it's hard to see more than a few feet off the path. I was half expecting to see a tiger cross our path. The path is so twisty and turny we can only go about 20km/hr. This is by far the most technically challenging riding either one of has ever done. Making steady progress we finally, finally, make it out of the jungle and onto a red graded road. By now we've gone about 150km and 9 hours of hardcore jungle riding. We're told that Damreing is only 10km away. As we cruise towards the town, the road gets better, eventually turning to tarmac. We're so excited we're pumping our fists in the air. As we crest a low hill, expecting to see the mighty Mekong in front of us, we instead see the rubber factory where we'd stayed the night before! A mix of bewilderment and hilarious shock came over us as we stared at the factory in disbelief. Back to the restaurant where we had breakfast to reevaluate our plans. We call Mr. Chi and get turn by turn directions to Kompong Thom, 2.5hrs away. He kindly offers another night at his house, but at this point it's feeling like "Groundhog Day" and we know the Kompong Thom has hotels and food. As the sun sets we make our way to the city, arriving well after dark, but happy to see a new American owned restaurant has opened and is promising something other than fried rice or noodles.

With out plans to cross the Mekong and head up the east side thwarted, we make our way up the easy road to Tbeng Menchay, the provincial captial of Preah Vihear province. It's a nice town, a little modern(ish) oasis in the middle of the northern forests. Paved roads, electricity, a great guesthouse, aircon, flatpanel tv, and a hot shower. We had unexpectedly ended up there two years ago on another misadventure, and the changes that are taking place around the country are happening there as well. Within a few years, the town went from a sleepy city to bustling one. It's been such a nice day, a piece of cake compared to a day earlier that we went on a little "stall-crawl" around town, stopping at most of the street stalls and grabbing drinks. They ranged from standard plastic chairs on the street to a bizarre karaoke place.

Another easy day of riding to Preah Vihear on great new roads thanks to the military action on the border with Thailand. The only hiccup was a flat tire on Al's bike. Thankfully it happened just as we passed a road construction site with a group of guys eager to help. The group of us managed to get the new inner tube in and inflated.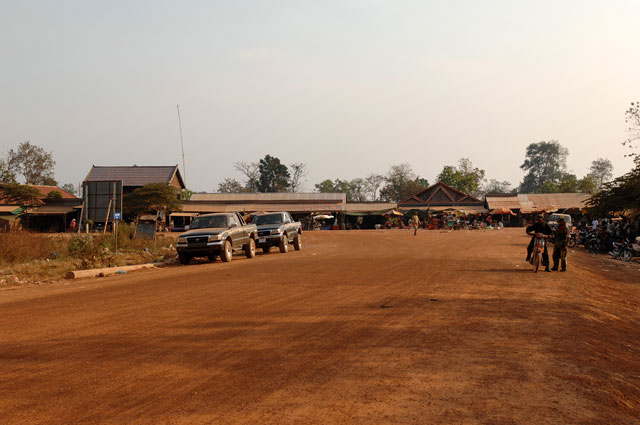 Preah Vihear town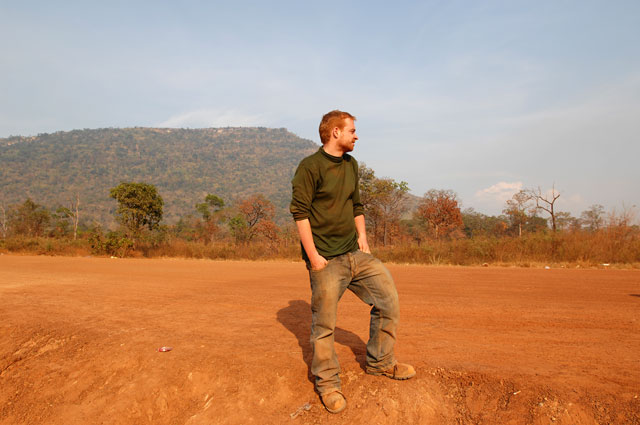 Al with Preah Vihear in the background

Preah Vihear sits atop a massive cliff overlooking Cambodia and Thailand. Old grudges never die and the UNESCO site is currently a militarized zone with about 30,000 Cambodian troops and another 5-10,000 Thai troops dug in on their respective sides. As we cruised up the mountain road, tanks, trucks, and troops sat in the shade. Up the impossible steep road we went, eventually making it safely to the top, where the troops were playing volleyball in their underwear. Many of their families had apparently moved in as well, women and children were also milling around. With all the troops around, we had the huge temple to ourselves (along with a guard and his young boy).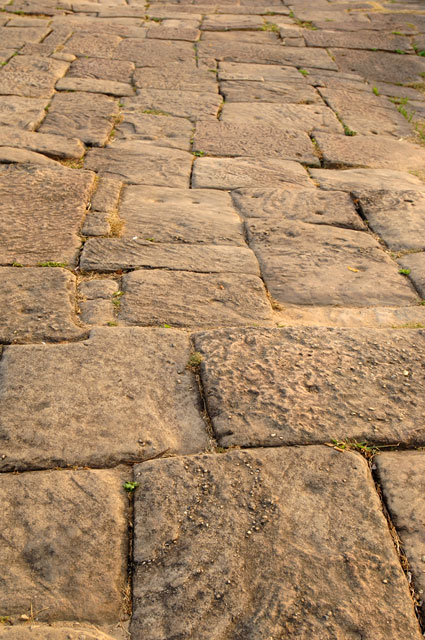 Causeway up to Preah Vihear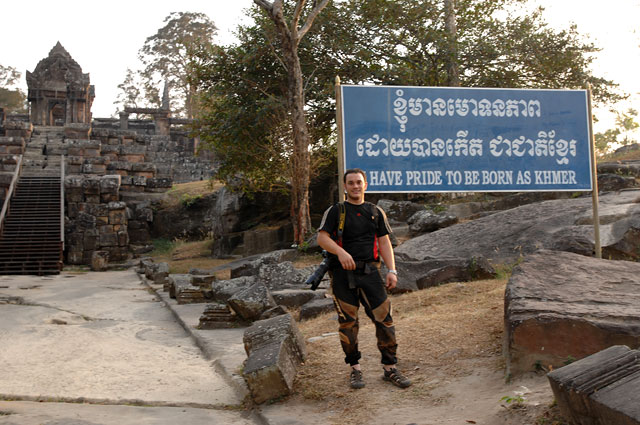 Strange signs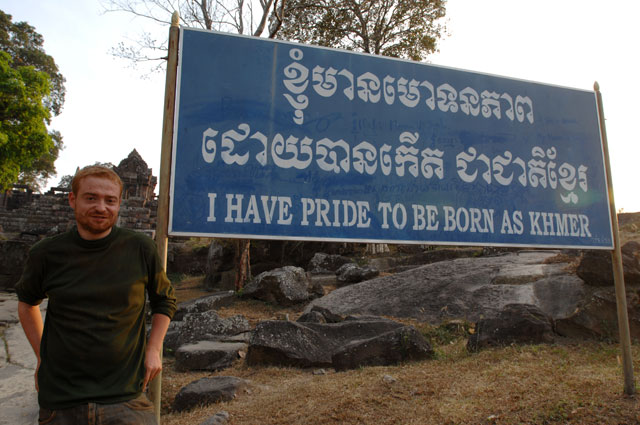 The causeway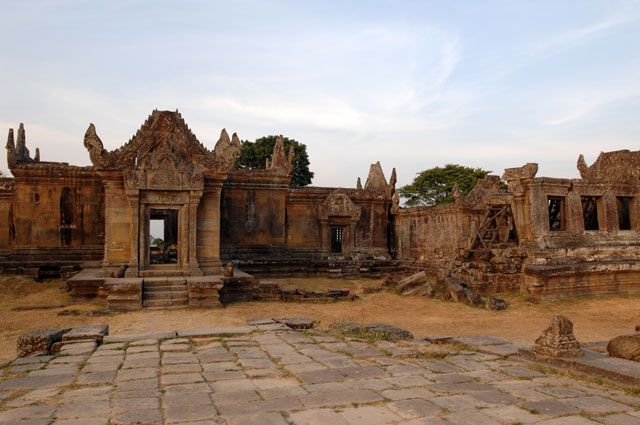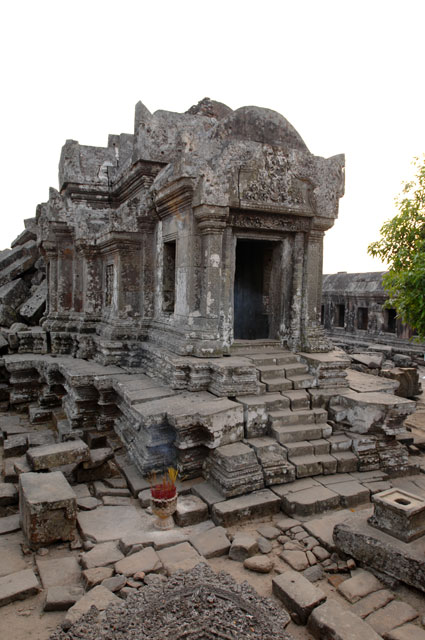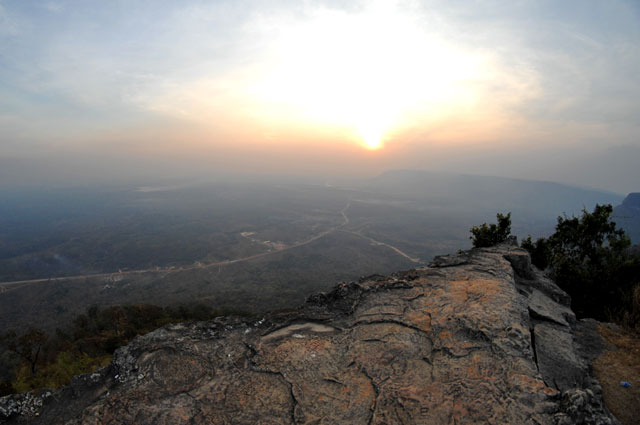 The view of Cambodia from the top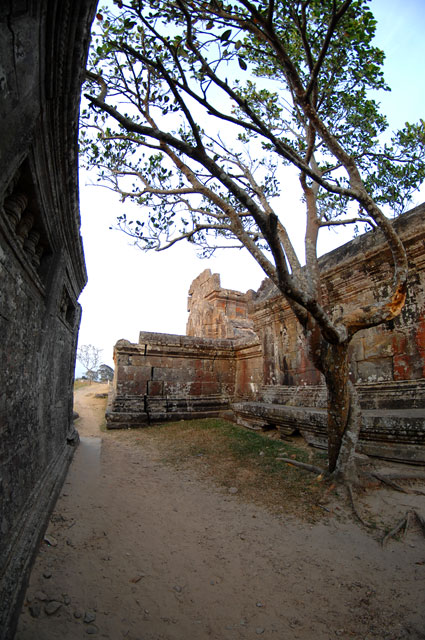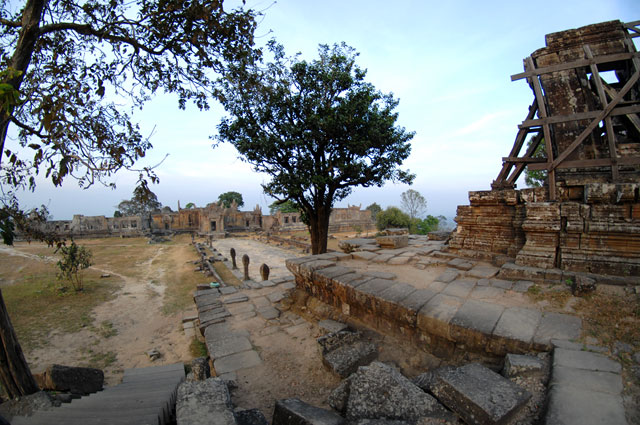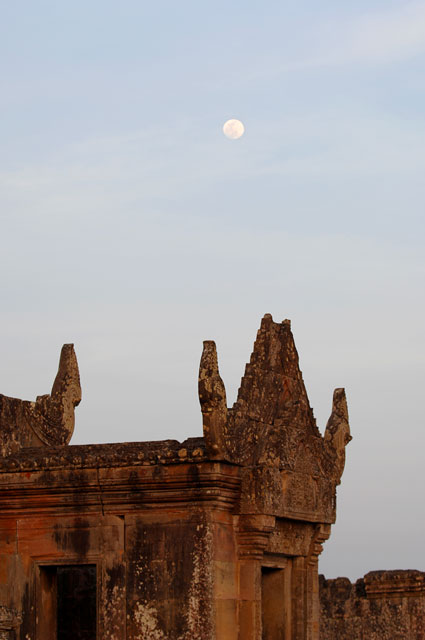 An almost full moon rises over Preah Vihear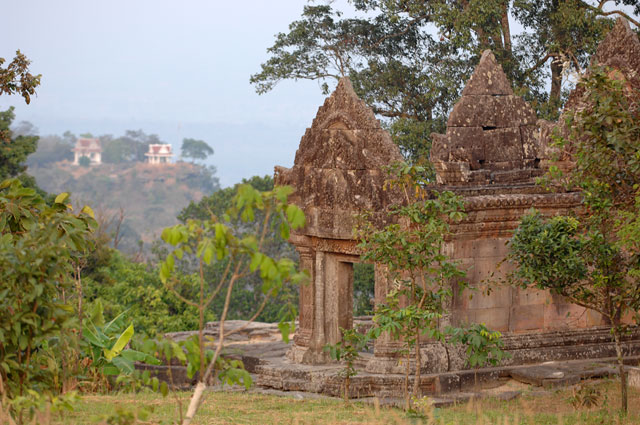 Part of the Preah Vihear with Thailand in the background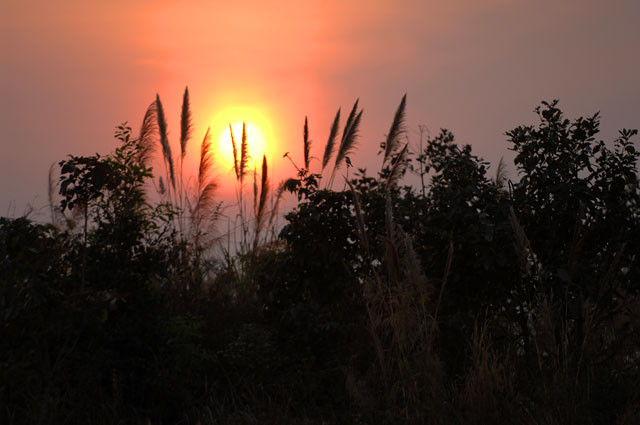 They seemed pleased to have us there.

Back down the ridiculously steep hill. It felt like you might fall over the handle bars. Fried noodles, a cold beer, and a shower in our sparse guest house set us right.

It was amazing to finally make it to Preah Vihear, as a wrong turn two years ago sent us to Tbeng Menchay. It easily ranks as one of my favorite temples, and blows your mind as to how they got all that stone up there.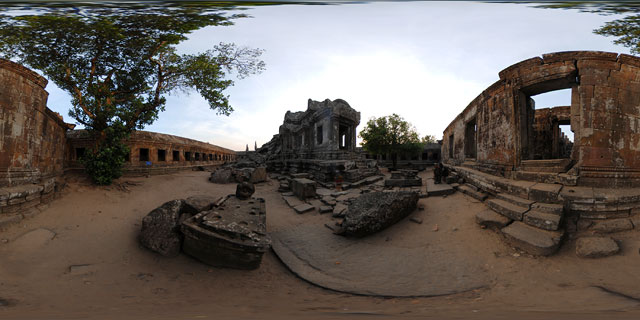 Virtual tour of Preah Vihear, click on the photo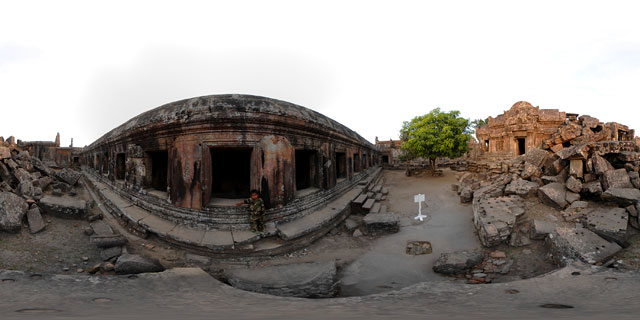 Virtual tour of Preah Vihear, click on the photo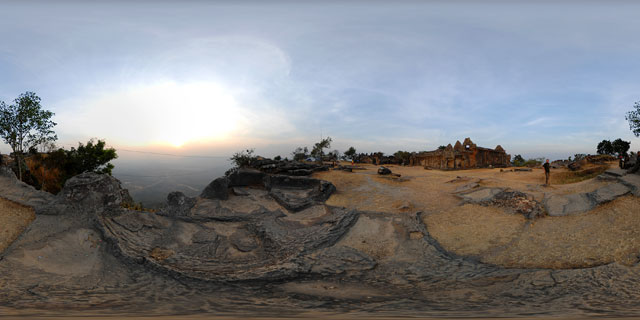 Virtual tour of Preah Vihear, click on the photo

Good roads as we made our way back to Siem Reap, through Anlong Veng. Anlong Veng is where Pol Pot, the Khmer Rouge leader was hold up and eventually died. It's now a busy town that's become a major border crossing with Thailand thanks to a paved road all the way Siem Reap. The paved road replaces a single lane dirt road that used to take 4-5 hours. It's now an easy 2.

We got back into town with just enough time to shower and eat before heading to the Warehouse rooftop to ring in the New Year!